Course Code: ARA1011-O
Arabic Level 1
Master the Language of the Qur'an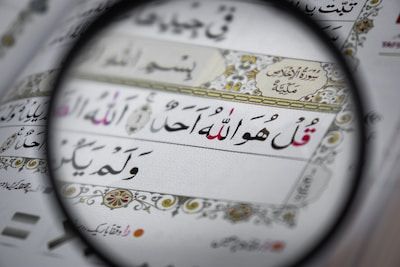 Empty space, drag to resize
About This Course...
Course Code: ARA1011-O


Course Department: Arabic

Course Topic: Arabic Language

Course Title: Arabic Level 1


Course Description:
Embark on an enriching journey with our Arabic Level 1 course.

Designed for beginners, this course focuses on achieving key language competencies.

By the end of the course, you will confidently recognize all Arabic alphabet letters, their various forms when written individually, and when joined together.

Master the pronunciation of short vowels, long vowels, and consonants to communicate with accuracy. Through interactive exercises, you will develop the ability to spell Arabic words based on their sounds, employing short and long vowels effectively.

Building upon this foundation, you will also learn to construct basic Arabic sentences, enabling you to express yourself in this captivating language.


By the End of this Course, you will be able to:
Read and translate simple Arabic paragraphs

Use basic Arabic grammar in writing and speaking ( past tense, pronouns, Idaafa construct)

Introduce yourself and make short conversations

Write Arabic using readable and eligible handwriting
Other Key Info:
Open to: Brothers and Sisters
Course Type: Theoretical & Practical
Assessment Methods: Theory Exam(s) & Practical Exam(s)
Core Texts: Tome de Médine – Tome 1 / Medina Book 1 (Al Hadith Editions)
You must have passed either:

or be at an equivalent level.


Suggested Pre-Requisites
Start Date: Saturday 9th Sep 2023
Finish Date: Sunday 28th July 2024
Duration: 36 Teaching Weeks

Onsite Class Times: N/A
Online Class Times: Sat and Sun, 10am - 11:30am
Course Instructor 1
Ustadh Ahmar Iqbal
Ustadh Ahmar studied Arabic in the Islamic University of Madina and Um al Qura University in Makkah, and has been teaching Arabic for over 20 years in the UK both in classrooms and online. He also has a master's degree in Arabic/English Translation from the University of Leeds.
The teaching is at very high quality at GLM. All the ustaza and syeikh/ustaz are very knowledgeable and are very good at teaching us through examples from the Quran and Sunnah MashaAllah.
— Siti
The teachers were engaging and presented the material at the right pace for me. They were always accommodating to my needs as a student.
— Adnan
The quality of teaching is at a high standard and there are lovely facilities. Please learn the deen; you will be benefitted in Dunya and Akhira.
— Jasmeen
Apply Now!
Your application will be reviewed by one of our staff to ensure this course will be the best fit for you
Arabic Level 1
Sign up Now!